2011年12月30日(金)
2011年に入手した2011年リリースの CD(○P 2011 の表示のあるリイシュー,編集盤も含む) のうち,My BEST 10 CDs in 2011 は,以下の通り。

● Lucinda Williams "BLESSED [Deluxe Edition] (2 CDs)" [Lost Highway B0015240-02]
 今年一年を通じて,最も共感できるアルバムだった。

● Sam Cooke "Sam Cooke - The RCA Albums Collection (8 CDs)" [RCA/Legacy 88697898702]
 来る3月には,日本で1枚ずつ紙ジャケ高音質の CD がリリースされるらしい。シングル・バージョンや未発表曲がボーナス・トラックとして収録されるならありがたいが,無理だろうか・・・? もし追加されるのなら,あの価格設定でも文句はないが・・・(^_^;)
 ● Sam Cooke "The Keen Collection (Remastered)" [Keen Records ]
 ↑ 今年は,Keen 時代の楽曲も MP3 ではあるものの,一応一通り公式にリリースされたし,来年は RCA 時代の楽曲も,少なくともシングルや LP として過去に公表されたものについては,一通り CD 化していただきたい・・・m(_ _)m

● Arthur Conley "I'm Living Good - 1964-1974" [Kent CDKEND 358]
 Otis Redding によって死の直前に FAME で録音され,未発表だったセッションの発掘を期待しているが,この CD のライナー(Tony Rounce) によると,'Rome (Wasn't Built In A Day)' 以外の曲について・・・
... the rest and many others from all periods of Arthur's Atco tenure seem mostly to have been lost. 
seem mostly ということは,望みが完全に絶たれたわけではない・・・?

● V.A. "Sweet Inspiration: The Songs of Dan Penn & Spooner Oldham" [ace CDCHD 1284]
 来春には Dan Penn が Spooner Oldham 以外と共作した楽曲についてもリリースされる予定。Dan Penn 自身の単独アルバムも期待したい。ブートやネット上にこそこそとアップされるのではなく,きちんとしたプロダクションで,公式に CD 化されるのを願っております・・・m(_ _)m

● V.A. "The Fame Studios Story 1961-1973 (3CDs)" [Kent KENTBOX 12]
 貴重な音源をリイシューし発掘してくれる 英 ace/Kent の努力には,毎度のことながら頭が下がる m(_ _)m
 CD というメディアの衰退が取り沙汰されているが,こんな風に,文化的歴史的な資料として成立するような形でのリリースは,CD が生き残っていくための一つの方法にちがいない。

◎ Bobby Charles "Better Days - Rare Tracks On Bearsville" [Victor/Bearsville VICP-75033]
 Rhino Handmade からボックス・セットが発売されるのは知っていたが,二の足を踏んでいたところ,未発表曲を集めた日本独自編集の CD が発売されたので,即購入 (^_^)v
 長門芳郎さんの心のこもった解説を読むこともできる。こういう日本盤なら喜んで買わせていただきます。

◎ Joe Henry "Reverie" [Epitaph/Sony EICP 1478]
 Solomon Burke "Don't Give Up On Me" で初めて知ったが,聴いていて面白いか? 好きか? と問われれば,(?_?) なのだけれども,なぜか気になるアーティスト。上品で知的でアルコールの臭いのしない Tom Waits ・・・という印象があるが,彼なら中村とうようさんにも気に入っていただけたかも・・・?

◎ Rolling Stones "Some Girls (2CDs)" [A&M UICY 10027/8]
 来年は,新作を引っさげてのワールド・ツアーが期待できる?
 だれもコメントしてくれないが,"The Brussels Affair" の 'Happy' 中のミックの 'Fa-Fa-Fa-Fa-Fa' は,ぼくの空耳か?

◎ Etta James "Call My Name (+12)" [Kent CDKEND 360]
 引退記念となった新作の "Dreamer" も悪くはなかったが,この,1966年のアルバムを CD 化したものには,ボートラとして 'Mr.Pitiful' の女性版が収録されている。

◎ 浅川マキ "アメリカの夜" [EMI TOCT-27080]
 浅川マキが,自選作品集である "DARKNESS" のシリーズ中,唯一,収録曲の全てを曲順もそのまま選曲したアルバム。
1986年の作品なのでリアルタイムで聴いていたわけではないが,マキさんが好きだったのなら逆らえない・・・(^_^;)
ラストを飾る 'POSSESSION OBSESSION' は Hall & Oates の作品だが,そのサウンドには Roxy Music からの影響が強く感じられた。
2011年12月30日 11時29分 |
記事へ
|
コメント(4)
|
トラックバック(0)
|
|
CHEAP TALK
/
BEST 10 CDs in 2011
|
トラックバックURL:http://blog.zaq.ne.jp/shinozrsb/trackback/1060/
※ブログ管理者が承認するまで表示されません
2011年11月29日(火)
Various Artists "The Fame Studios Story 1961-1973 (3CDs)" [Kent KENTBOX 12]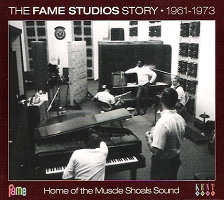 <11月 29日 追記
多少の遅れはあったけれども,無事にリリースされた (^_^)v
なぜか,一部に曲順の変更があった。
さて,次は,どんな Fame 関連の音源が CD 化されるだろう。
期待と希望は膨らむばかり・・・(^^♪

遅れに遅れていた Arthur Conley の CD も無事届いたが,彼の未発表音源も Fame の倉庫に眠っているはず・・・m(_ _)m >


<9月17日 記>
"Sweet Inspiration: The Songs of Dan Penn & Spooner Oldham" のライナー中に予告されていた "FAME box set" のリリースが正式決定したようだ。タイトルは "The Fame Studios Story 1961-1973" で,75曲収録。

http://www.systemrecords.co.uk/various-artists-fame-studios-story-19611973-p-1064588.html
↑ のサイトによると,トラック・リストは以下の通り。例によって,手持ちの CD との重複もかなりあるが,さすがに 英KENT らしく,なかなか興味深い選曲になっている。

取り急ぎ,お知らせまで・・・m(_ _)m
・・・ Dan Penn 'Let Them Talk' は,あの 'Let Them Talk' ではありません・・・(^_^;)

<9月18日 追記
 ざっと調べて判明した範囲でシングル No. 等の情報を追加しておいた。
 Youtube にかなりの曲がアップされているけれども,そのほとんどがノーザン系のように感じた。
 Mitty Collier 'Take Me Just As I Am' などの未発表曲を聴けるのが楽しみ (^^♪
 EP "Stars Of Fame" に収録されていた「未発表曲」は,やはり予想通り CD 化されましたね・・・(^_^;)>

<10月16日 追記
 Mr. Soulsatisfaction さん からいただいたコメントを元に,楽曲の情報を修正・追加しておいた。
 ありがとうございました m(_ _)m>

<10月21日 追記
 Disc II-24. Search Your Heart 以外は,All titles are previously unissued Fame recordings. というアルバムが,12月にリリースされる予定。
しかも,"Vol.1" ということは,続編も・・・(^_^)v
○ George Jackson "Don't Count Me Out: Fame Recordings Vol.1" [Kent ]>


Disc I: Steal Away
1. You Better Move On - Arthur Alexander (Arthur Alexander) [1961, Dot 16309]
 ● "You Better Move On" [Dot/MCA MCD 30493]
2. Laugh It Off - The Tams (Ray Whitley) [1963, ABC-Paramount 10502]
 ● The Tams "The Best Of The Tams: Hey Girl Don't Bother Me" [Spectrum HMNCD 032]
3. Night Rumble Pt 1 - The Mark 5 (Curtis Thompson) [1963, ABC-Paramount 10433]
4. Everybody - Tommy Roe (Tommy Roe) [1963, ABC-Paramount 10478]
 ● Tommy Roe "Greatest Hits" [MCA MCAD-10884]
5. I Hope They Get Their Eyes Full - Arthur Alexander (Dan Penn, Donnie Fritts) [1962, Fame unissued]
6. Steal Away - Jimmy Hughes (Jimmy Hughes) [1964, Fame 6401]
 ● "Steal Away: the early Fame recordings" [Vee-Jay/Kent CDKEND 324]
7. Let Them Talk - Dan Penn (Dan Penn, Tom Stafford) [1965, Fame 6402]
 "Nobody's Fool" のブート CD に収録されたことがある。
8. Hold What You've Got - Joe Tex (Joe Tex) [1964, Dial 4001]
 ◎ "Hold on to What You've Got/The New Boss" [CONNOISSEUR VSOP CD 345]
9. A Man Is A Mean, Mean Thing (Alternate Take) - Barbara Perry (Gene Miller, Helen Keep. Earl Cage) [1967, Goldwax unissued]
 ↓ に収録されていた曲の Alternate Take。
 ◎ "Goldwax Northern Soul" [Kent CDKEND 313]
10. Fortune Teller - The Del-Rays (Naomi Neville) [1963, R and H 1005]
 ストーンズもカバーした Naomi Neville こと Allen Toussaint の曲。オリジナルは Benny Spellman。
 The Del - Rays - Fortune Teller - Mod Classic - Soul.wmv @ Youtube
 再結成した同窓会コンサートでも演奏していた。
 ● V.A. "Muscle Shoals Bands of the 60's Reunion" [Alabama Music Hall Of Fame AMHOF 1993-001]
11. Funny Style - Bobby Marchan (Clarence Reid) [1965, Dial 4007]
 ◎ Bobby Marchan "Get Down With It: The Soul Sides 1963-67" [Kent CDKEND 357]
12. Almost Persuaded - June Conquest (Dan Penn, Donnie Fritts) [1964, Fame 6406]
 NS-KTF-1238 June Conquest - Almost Persuaded.wmv @ Youtube
13. Too Much - The Entertainers (Quin Ivy, Rick Hall) [1966, Chess 1951]
14. Keep On Talking - James Barnett (Dan Penn, Spooner Oldham) [1966, Fame 1001]
 James Barnett - Keep On Talking @ Youtube
15. Searching For My Love - Bobby Moore and The Rhythm Aces (Bobby Moore) [1966, Checker 1129]
 ◎ Bobby Moore & The Rhythm Aces "Go Ahead And Burn" [CHESS/Shout! RPMSH 275]
16. Wish You Didn't Have To Go - Spooner and The Spoons (Dan Penn, Spooner Oldham) [1964, Fame 6405]
17. Let's Do It Over - Joe Simon (Dan Penn Spooner Oldham) [1965, Vee-Jay 694]
 ● "The Best Of Joe Simon" [FunHouse 30YD-1051]
18. Neighbor, Neighbor - Jimmy Hughes (Alton Valier) [1966, Fame 1003]
 ● "Why Not Tonight?: the Fame recordings Vol.2" [Atlantic/Kent CDKEND 331]
19. Feed The Flame - Billy Young (Dan Penn, Spooner Oldham) [1966, Unissued Fame]
20. I'm Your Puppet - James and Bobby Purify (Dan Penn, Spooner Oldham) [1966, Bell 648]
 ● James & Bobby Purify "I'm Your Puppet" [SONY BMG BMK27286]
21. I Can't Stop (No, No, No) - Arthur Conley (Dan Penn, Roger Hawkins) [1966, Fame 1007]
 ● "Sweet Soul Music / Shake Rattle and Roll" [Collectables COL-CD-7632]
22. Gonna Make You Say Yeah - Terry Woodford (Larry Hamby, Terry Woodford) [1966, Fame 1002]
23. Two In The Morning - Spooner's Crowd (Spooner Oldham, Albert Lowe, Roger Hawkins) [1966, Cadet 5533]
 SPOONER'S CROWD TWO IN THE MORNING @ Youtube
24. Why Not Tonight - James Gilreath (James Gilreath) [1966, Unissued Fame]
25. Land Of 1000 Dances - Wilson Pickett (Chris Kenner) [1966, Atlantic 2348]
 ◎ "The Exciting Wilson Pickett" [ATLANTIC/RHINO R2 71276]

Disc II: Slippin' Around
1. You Left The Water Running - Otis Redding [1967, Unedited version of Stone 209]
 ● V.A. "The Muscle Shoals Sound" [RHINO R2 71517]
2. A Shot Of Rhythm and Blues - Clyde Mcphatter (Curtis Thompson) [1966, Amy 968]
 ◎ "A Shot Of Rhythm & Blues" [Sundazed SC 6165]
3. Slippin' Around With You - Art Freeman (Dan Penn, Spooner Oldham) [Fame 1008]
 ● V.A. "Sweet Inspiration: The Songs of Dan Penn & Spooner Oldham"
4. Without A Woman - Kip Anderson (Drew Miller, Quin Ivy, Dan Penn) [1966, Checker 1145]
 ◎ V.A. "Chess 50th Anniversary Collection: R&B Singers Edition" [CHESS MVCE-22026]
5. Sweet Soul Music - Arthur Conley (Arthur Conley, Sam Cooke, Otis Reddingf) [1967, Atco 6463]
 ● "Sweet Soul Music / Shake Rattle and Roll" [Collectables COL-CD-7632]
6. Thread The Needle - Clarence and Calvin (Clarence Carter) [1967, Fame recording]
 Edited Version バージョンは,↓
 ◎ Clarence Carter "This Is Clarence Carter" [Atlantic PCR-25238]
7. I Never Loved A Man (The Way I Love You) - Aretha Franklin (Ronny Shannon) [1967, Atlantic 2386]
 ● "I Never Loved a Man the Way I Love You (+Bonus)" [RHINO/ATLANTIC R2 71934]
8. Miss You So - Ted Taylor (Morgan Babb) [1968, Ronn 15]
 ◎ "Ever Wonderful: The Complete JEWEL and RONN solo single A's and B's (2 CDs)" [EBB & RONN/Westside WESD 200]
9. You Put Something On Me - Don Covay and The Good Timers (Don Covay) [1966, Atlantic 2340]
10. Tell Mama - Etta James (Wilbur Terrell, Marcus Daniel, Clarence Carter) [1967, Cadet 5578]
 ◎ "Tell Mama: The Complete Muscle Shoals Sessions" [Chess/MCA 088 112 518-2] -2001
11. Keep Your Cool - Terry and The Chain Reaction (Rick Hall, Terry Woodford) [1967, United Artists 50199]
 Terry & The Chain Reaction - Keep Your Cool @ Youtube
12. Cheater Man - Irma Thomas (Dan Penn, Spooner Oldham) [1967, Chess 2010]
 ◎ "Something Good: The Muscle Shoals Sessions" [CHESS/MCA CHD-93004]
13. Don't Make Me Hate Loving You - Jeanie Greene (Albert Lowe) [1966, Fame recording]
14. Everytime - Linda Carr (Dan Penn, Spooner Oldham) [1967, Bell 658]
 LINDA CARR,EVERYTIME @ Youtube
15. I Stayed Away Too Long - The Wallace Brothers (Clarence Carter) [1969, Jewel 800]
 ● V.A. "Soul Jewels vol. 2: I Wake Up Crying" [WestSide WESA 913]
16. As Long As I Got You - Laura Lee (Gene Barge, Laura Lee) [1968, Chess 2041]
 ● "The CHESS Collection" [CHESS 983 294-2] -2006
17. Don't Lose Your Good Thing - The Blues Busters (Spooner Oldham, Rick Hall, Bob Killen) [1968, Shout 235]
 ● "Behold! The Anthology" [Trojan 06076-80519-2]
18. Slip Away - Clarence Carter (Wilbur Terrell, Marcus Daniel, William Armstrong) [1967, Unissued Fame]
19. Do Right Woman, Do Right Man - Otis Clay (Dan Penn, Chips Moman) [1968, Cotillion 44009]
20. Once In A While (Is Better Than Never At All) - Spencer Wiggins (Carmol Taylor, Quinton Claunch, David Hall) [1968, Unedited version of Goldwax 337]
 ◎ "The Goldwax Years" [KENT/Ace CDKEND 262]
21. Thief In The Night - Ben and Spence (Bob James) [1967, Unissued Fame]
22. Take Me Just As I Am - Mitty Collier (Dan Penn Spooner Oldham) [1968, Unissued Chess]
23. Why Don't You Try Me - Maurice and Mac (Billy Young) [1968, Checker 1206]
24. Search Your Heart - George Jackson (George Jackson, Raymond Moore) [1968, Unissued Fame]
 21. 23. 24. は "The Stars Of Fame" という EP に収録されていた。
25. Ten Miles High - David and The Giants (David Huff) [1968, Crazy Horse 1300]
 David and The Giants - Ten Miles High @ Youtube

Disc III: Get Involved
1. Lady In The Rain - Lowell Fulson (Ferdinand Washington, Lowell Fulson) [1969, Jewel 801]
 Lowell Fulsom-Lady In The Rain @ Youtube
2. Hey Jude - Wilson Pickett (John Lennon, Paul McCartney) [1968, Atlantic 2591]
 ● "Hey Jude" [MMG AMCY-67]
3. Another Mans Woman, Another Womans Man - Unknown Female
(Marlin Greene, Dan Penn, George Jackson)
4. Snatchin' It Back - Clarence Carter (Clarence Carter, George Jackson) [1969, Atlantic 2605]
 ● "Testifyin' (+4)" [Atlantic/Sequel RSA CD 905]
5. I Got You Babe - Etta James (Sonny Bono) [1968, Cadet 5606]
 ◎ "Tell Mama: The Complete Muscle Shoals Sessions" [Chess/MCA 088 112 518-2] -2001
6. Wanted: Lover (No Experience Necessary) - James Govan (Leonard Caston, Lloyd Webber) [1969, Fame 1461]
7. Find 'Em, Fool 'Em And Forget 'Em - George Jackson (Rick Hall, George Jackson) [1969, Fame 1457]
8. I'm Just A Prisoner (Of Your Good Lovin') - Candi Staton (George Jackson, Eddie Harris) [1970, Fame 1460]
 ◎ "Evidence: The Complete Fame Records Masters (2 CDs)" [Kent CDKEN2 353]
9. Grits And Gravy - The Fame Gang (Mickey Buckins, Aaron Varnell, Harrison Calloway, Ronald Eades, Clayton Ivey, Jesse Boyce, Freemon Brown, Albert Lowe) [1969, Fame 1458]
10. One Bad Apple - The Osmonds (George Jackson) [1971, MGM 14 193]
 ● "The Osmonds/Homemade" [7T's GLAM CD 57]
11. I'd Rather Go Blind - Spencer Wiggins (Billy Foster, Ellington Jordan) [1970, Fame 1470]
 ● "Feed The Flame: The FAME and XL Recordings" [KENT CDKEND 340]
12. Take Me Back - Brothers Unlimited (Larry Chambers, Dan Greer, George Jackson) [1970, Capitol LP 600]
 ● "Who's For The Young" [Fallout FOCD 2096]
13. Walk A Mile In My Shoes - Willie Hightower (Joe South) [1969, Fame 1465]
 ● "Willie Hightower" [Honest Jons 07243 863429 2 8]
14. Patches - Clarence Carter (General Johnson, Ronald Dunbar) [1970, Atlantic 2748]
 ● "Patches (+4)" [Atlantic/Sequel RSA CD 906]
15. Fancy - Bobbie Gentry (Bobbie Gentry) [1970, Capitol 2675]
 ● "Ode To Bobbie Gentry: The Capitol Years" [ZONOPHONE 5 27719 2]
16. Double Lovin' - George Jackson (Mickey Buckins, George Jackson) [Unissued Fame demo]
17. Greenwood, Mississippi - Little Richard (Travis Wammack, Albert Lowe) [1970, Reprise 0942]
 ● "The Rill Thing" [collector's choice music CCM-2021]
18. What Color Is Love - Roscoe Robinson (Earl Cage, Osbie Burnett McClinton) [1970, Fame 1469]
19. Bring It On Home To Me - Lou Rawls (Sam Cooke) [1970, Capitol 2856]
 ■ "Bring It on Home" [Capitol ST-479]
20. I Can't Let You Break My Heart - Bettye Swann (Bettye Jean Champion) [1971, Fame 1479]
21. Back Road Into Town - Willie Hightower (Willie Hightower, Osbie Burnett McClinton) [1971, Fame 1477]
 ● "Willie Hightower" [Honest Jons 07243 863429 2 8]
22. The Thanks I Get For Lovin' You - Candi Staton (Candi Staton) [1973, Fame 91009]
 ◎ "Evidence: The Complete Fame Records Masters (2 CDs)" [Kent CDKEN2 353]
23. Get Involved - George Soule (Eugene Williams, George Jackson, Raymond Moore) [1973, Fame 302]
 ◎ V.A. "Black & Proud: The Soul of the Black Panther Era, Vol. 1" [Trikont US-0302]
24. Put On Your Shoes And Walk - Clarence Carter (J R Bailey, Rudy Clark, Ken Williams) [1973, Fame 179]
 Clarence Carter - Put On Your Shoes and Walk (1973) @ Youtube
25. You Better Move On - Travis Wammack (Arthur Alexander) [1972, Fame LP 1801]
2011年11月29日 22時20分 |
記事へ
|
コメント(7)
|
トラックバック(0)
|
|
Past MUSIC in 2011
/
BEST 10 CDs in 2011
|
トラックバックURL:http://blog.zaq.ne.jp/shinozrsb/trackback/1035/
※ブログ管理者が承認するまで表示されません
2011年07月16日(土)
Arthur Conley "I'm Living Good - 1964-1974" [Kent CDKEND 358]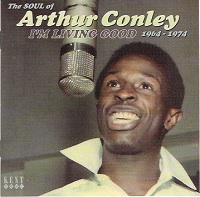 <11月29日 追記
リリースが遅れに遅れていたけれども,やっと届いた (^_^)v
曲順が大幅に変更されていたが,収録曲そのものは同じ・・・?
トラック・リスト

を修正せねば・・・(^_^;)

は修正済>


<7月16日 追記>
日アマゾンでも予約が始まったが,まだ収録曲は表示されていない。今のところトラック・リストが掲載されているのは,元親さんに教えてもらった ↓ のサイトだけ・・・?
今後,変更されるかもしれないが・・・。
http://www.systemrecords.co.uk/conley-arthur-living-good-19641974-soul-arthur-conley-p-1062410.html

最大のヒット曲である 'Sweet Soul Music' が収録されておらず,「裏」ベスト盤的な選曲になっている。
1. Let's Go Steady Again
2. Take Me (Just As I Am) 3. Where You Lead Me - Harold Holt And His Band (Vocal: Arthur Conley) 4. There's A Place For Us 5. I'm Gonna Forget About You 6. Love Comes And Goes 7. I'm A Stranger (A.K.A. I'm A Lonely Stranger) - Harold Holt And His Band (Vocal: Arthur Conley) 8. I'll Let Nothing Separate Us 9. Put Our Love Together 10. Keep On Talking 11. This Love Of Mine 12. Take A Step 13. Otis Sleep On 14. Is That You Love
15. That's How It Feels - The Soul Clan (Arthur Conley, Solomon Burke, Ben E. King, Joe Tex, Don Covay)
16. God Bless 17. All Day Singing 18. Nobody's Fault But Mine 19. If He Walked Today
20. I'm Living Good
21. Walking On Eggs
22. It's So Nice (When It's Somebody Elese's Wife) 23. I Want Your Love 24. Stop Knocking

初 CD 化曲は,以下の6曲のはず。この時代の曲目リストは → A_Conley.xls
3. 7. [Ru-Jac 0014] -1964
17. [Atlantic(UK)-2091 025] -1970
19. [Atlantic(UK)-?] -1970
20. [Capricorn 8017] -1971
21. [Capricorn 0001] -1972

注目されるのは,やはり 3. と 7. だろう。これを聴いた Otis Redding が Arthur Conley と契約する気になったというシングル。Stax のスタジオで MG's をバックに再録音したバージョンは,1st LP "Sweet Soul Music" で聴くことができる。。

2. 4.〜 6. 8.〜 14. は,Atco からリリースされた LP の収録曲。4枚全て CD 化済み。
2. 4. 5. 8. 10. ● "Sweet Soul Music / Shake Rattle and Roll" [Collectables COL-CD-7632]
6. 9. 11. 13. ● "Soul Directions" [MMG AMCY-45]
12. 14. ◎ "More Sweet Soul" [ATLANTIC AMCY-2927]

1. 15.〜 21. は,Not on LP のシングル曲。
1. Let's Go Steady Again は,ヒットした 'Sweet Soul Music' の B 面曲。Sam Cooke から Otis Redding,Arthur Conley を経て,Keith Richards につながる系譜を実感できる曲。
J.W. Alexander 作で Keen 時代のポップなラブ・バラードの歌い出しの一節 'You left me for another.' にインスパイアされて書かれたに違いない 'That's What My Heart Needs' は,Otis Redding の数ある名唱の中でも My Favorite。
Otis は,元曲全体をディープなソウル・バラードにアレンジして Arthur Conley に歌わせているが,それをそのままコピーして歌ったのがキース。

Sam Cooke- Let's Go Steady Again @ Youtube
http://www.youtube.com/watch?v=_kQHmN4thes

That's What My Heart Needs - Otis Redding (1963) @ Youtube
http://www.youtube.com/watch?v=rMVZ8itnYRQ

Arthur Conley "Let's Go Steady" @ Youtube
http://www.youtube.com/watch?v=g0LT7d-2cmE

The New Barbarians - Keith Richards - "Let's go steady" - Live 1979 @ Youtube
http://www.youtube.com/watch?v=vAzaGfX82gs

15. は,↓ などにも収録されていた。
● V.A. "Sanctified Soul" [KENT CDKEND 180]
 1. That's How It Feels - The Soul Clan

17. 19. は,イギリスのみでシングルとしてリリースされた曲らしい。

Capricorn 時代に録音された 20.〜 24. のうち Swamp Dogg がプロデュースした 22.〜 24. は,↓ で CD 化されたことがある。
● V.A. "Swamp Dogg presents Three Sweet Soul Music Kings" [S.D.E.G. SDEG 1967]

この後,1975年に渡英し,ベルギーで数年間過ごした後,オランダに腰を落ち着け,Lee Roberts という名前で録音(1980) したライブ盤 "Soulin'" に3曲追加した CD と DVD がセットになったアルバムもリリースされている。
● Arthur Conley & The Sweaters "Recorded LIVE in Amsterdam" [Blue Shadow WBB-003]
↑ の DVD に収録されたテレビ番組に出演している時点では,レコード会社や出版社なども含むプロダクションの経営者として成功を収めていたことから考えると,ビジネスの才能があったらしい。
Sam や Otis に比べると,ひ弱で線の細い印象があり,「歌」の出来にもムラのあるシンガーで,Not on LP の曲や,シングルにすらなっていない未発表曲が数多く残されている。
表題の CD が売れれば,それらの未 CD 化曲の発掘が進むかもしれない。Wilson Pickett,Percy Sledge と続いた Rhino Handmade のボックス・セットの第3弾として,この Arthur Conley を期待しているのだが・・・m(_ _)m


<7月10日 記>
まだ HMV だけの情報だが,Arthur Conley の編集盤 CD が8月末にリリースされるらしい。
収録曲は不明だけれどもタイトルになっている 'I'm Livind Good' は,Capricorn 時代のシングル[1971, Capricorn 8017] で,未 CD 化だった曲。Youtube には見当たらなかったが,↓ にはあった。
the Soul of the Net's - Arthur Conley Discography
http://www.melingo.com/thesoulnet/conley.htm
↑ のサイトに掲載されているように,Arthur Conley には an enormous number of unissued tracks がある。

以前,そのリストに含まれている曲が ↓ に収録されたので Rhino に期待したのだが,その後,音沙汰がない・・・(^_^;)
◎ V.A. "Atlantic Unearthed: Soul Brothers" [Atlantic/Rhino R 77625] -2006
 4. Rome (Wasn't Built In A Day) - Arthur Conley

表題の CD はベスト盤のようなので未発表だった曲は期待できないかもしれないが,Arthur Conley のベスト盤は,まともな選曲の CD が廃盤になってプレミアが付いていただけに,うれしい知らせではある。
● "Sweet Soul Music: The Best Of Arthur Conley" [Ichiban/soul classics SCL 2105-2] -1995
2011年7月16日 08時29分 |
記事へ
|
コメント(6)
|
トラックバック(0)
|
|
Past MUSIC in 2011
/
BEST 10 CDs in 2011
|
トラックバックURL:http://blog.zaq.ne.jp/shinozrsb/trackback/1026/
※ブログ管理者が承認するまで表示されません
2011年06月07日(火)
"Sam Cooke - The RCA Albums Collection (8 CDs)" [RCA/Legacy 88697898702]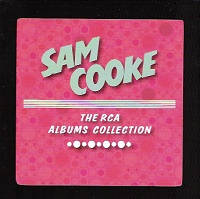 本日,届きました。
このボックスセットのリリースを知らせていただいた foolishpride さんには,感謝の念に堪えません m(_ _)m

やはり,いまだに Legacy Recordings の Sam Cooke のページ には情報がなく,PopMarket という会員制通信販売のネット・ショップだけでしか販売されていないのは,いったいなぜ・・・?
http://www.popmarket.com/sam-cooke-the-rca-albums-collection/details/25809731
その後,いつの間にか Popmarket の商品は Not available in other countries. ということで日本からは購入できなくなっている。広告メールはいまだに届いているのだが・・・(^_^;)
日本でも一部の専門店等で扱われるようになっているけれども,↓ の価格が最も良心的なようだ。
The RCA Albums Collection(輸入盤) @ Sony Music Shop
http://www.sonymusicshop.jp/m/item/itemShw.php?site=S&ima=0401&cd=00DX000089870
<<以上,8月17日 追記>>
Sony Music Shop ↑ での販売が終了した後,かなり割安(PopMarket からの個人輸入より安い (T_T)) な価格で Disc Union での予約受付 が始まり,日アマゾンにも商品が登録された。
日アマゾンは,現時点では「出品者からお求めいただけます。」状態だが,米英アマゾンでは予約を受け付けている(ASIN: B005APT72M) ので,もうしばらくすると,再び予約の受付が始まると思われる。
米英アマゾンで,Sam Cooke "RCA Albums Collection" と同時期に発売されることになっている ↓ は,日アマゾンでも予約が始まっていて,同じ扱いになるはずなのだが・・・?
● Nina Simone "Complete RCA Albums Collection (9 CDs)"
↑ は,予約済み。5枚組の "Original Album Classics" を我慢してよかった (^_^)v
<<以上,10月8日 追記>>


タイトルどおりの "Albums Collection" なので,RCA Victor からリリース(1960-63) された LP 7枚と,1963 年にライブ録音されたアルバムをそのままストレートに CD 化したセットで,Not on LP の曲などは含まれていない。
最近,RCA 初期の曲も英欧でリイシューされ始めたため,このボックス・セットで初めて CD 化されたのは6曲のみ。
'The Song Is Ended' on "My Kind Of Blues"(1961)
'Camptown Twist','The Twist','Twistin' In The Kitchen With Dinah','Twistin' In The Old Town Tonight' on "Twistin' The Night Away"(1962)
'Willow Weep For Me' on "Mr. Soul"(1963)

しかし,"Mr. Soul" までの6枚の LP が,こうやって CD 化されたことには,計り知れない価値がある。
特に,『U.S.BlackDiskGuide』「第1章 The Pioneers」の最初に掲載されている "Twistin' the Night Away" は,それまで New York で借りてきた猫のようにおとなしくしていた Sam Cooke が,Hollywood, CA. のスタジオで Earl Palmer を初めとする身内ともいえるミュージシャンたちと創り上げた名盤として,重要曲は "The Man Who Invented Soul (4 CDs)" で既に CD 化済みではあっても,オリジナルのまま CD 化されたことは,非常に喜ばしい。
今後は,一般のマーケットでも流通し,未発表曲などの発掘が進むことも期待したいが・・・,abkco が邪魔さえしなければ・・・(^_^;)

「紙ジャケ」の出来はまあまあ・・・,厚みがある分だけ Rhino の "Original Album Series" に比べるとマシ・・・(^_^;) 不自然な「白枠」だけは何とかしてほしかったが・・・。
付属のブックレット(24 pages) には,Stuart Colman という人のライナーノートと,アルバムごとのかなり詳細な録音データが掲載されている。セッション単位で参加ミュージシャンの名前がクレジットされているのはありがたい。




◎ "Cooke's Tour" [RCA Victor LSP-2221] -1960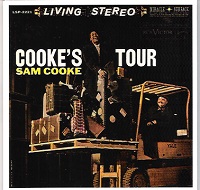 1. Far Away Places (Joan Whitney / Alex Kramer)
2. Under Paris Skies (Hubert Giraud / Kim Gannon / Jean Drejac)
3. South Of The Border (Down Mexico Way) (Jimmy Kennedy / Michael Carr)
4. Bali Ha'i (Richard Rodgers / Oscar Hammerstein)
5. The Coffee Song (They 've Got an Awful Lot of Coffee in Brazil) (Bob Hilliard / Dick Miles)
6. Arrivederci, Roma (Goodbye to Rome) (Carl Sigman / Renato Rascel)
7. London By Night (Carroll Coates)
8. Jamaica Farewell (Irving Burgess)
9. Galway Bay (Billy Strayhorn)
10. Sweet Leilani (Harry Owens)
11. The Japanese Farewell Song (Hasegawa Yoshida / Freddy Morgan)
12. The House I Live In (Lewis Allen / Robinson)



◎ "Hits of the 50's" [RCA Victor LSP-2236] -1960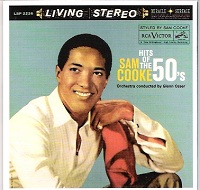 1. Hey There (Richard Adler / Jerry Ross)
2. Mona Lisa (Jay Livingston / Ray Evans)
3. Too Young (Sylvia Dee / Sidney Lippman)
4. The Great Pretender (Buck Ram)
5. You, You, You (Lotar Olias / Robert Mellin)
6. Unchained Melody (Hy Zaret / Alex North)
7. The Wayward Wind (Stanley Lebowsky / Herbert Newman)
8. Secret Love (Paul Francis Webster / Sammy Fain)
9. The Song From Moulin Rouge (George Auric / William Engvick)
10. I'm Walking Behind You (Billy Reid)
11. Cry (Churchill Kohlman)
12. Venus (Ed Marshall / Peter DeAngelis)



◎ "Sam Cooke (Swing Low)" [RCA Victor LSP-2293] -1961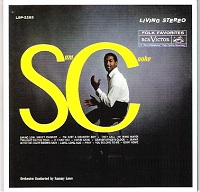 1. Swing Low, Sweet Chariot (Harry Warren / Al Dubin)
2. I'm Just A Country Boy (Fred Hellerman / Marshall Barer)
3. They Call The Wind Mariah (Alan Jay Learner / Frederick Loewe)
4. Twilight On The Trail (Sidney D.Mitchell / Louis Alter)
5. If I Had You (James W.Alexander / Sam Cooke)
6. Chain Gang (Sam Cooke)
7. Grandfather's Clock (Henry Clay Work)
8. Jeanie With The Light Brown Hair (Stephen Foster)
9. Long, Long Ago (Thomas Haynes Bayly)
10. Pray (Johnnie Taylor)
11. You Belong To Me (Sam Cooke / James W.Alexander)
12. Goin' Home (Anton Dvorak)



◎ "My Kind of Blues" [RCA Victor LSP-2392] -1961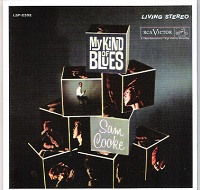 1. Don't Get Around Much Anymore (Bob Russell / Duke Ellington)
2. Little Girl Blue (Richard Rodgers / Lorenz Hart)
3. Nobody Knows When You're Down And Out (Jimmie Cox)
4. Out In The Cold Again (Ted Koehler / Rube Bloom)
5. But Not For Me (George Gershwin / Ira Gershwin)
6. Exactly Like You (Dorothy Fields / Jimmy McHugh)
7. I'm Just A Lucky So-And-So (Duke Ellington / Mack David)
8. Since I Met You Baby (Ivory Joe Hunter)
9. Baby, Won't You Please Come Home (Charles Warfield / Clarence Williams)
10. Trouble In Mind (Richard M.Jones)
11. You're Always On My Mind (James W.Alexander)
12. The Song Is Ended (Irvin Berlin)



◎ "Twistin' the Night Away" [RCA Victor LSP-2555] -1962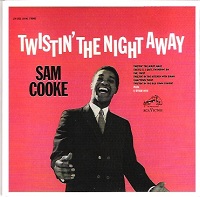 1. Twistin' The Night Away (Sam Cooke)
2. Sugar Dumplin (Sam Cooke)
3. Twistin' In The Kitchen With Dinah (Sam Cooke)
4. Somebody's Gonna Miss Me (Lattimore Brown / Arthur Lee Reeves)
5. A Whole Lotta Woman (James W.Alexander / Lowell Jordan)
6. The Twist (Henry Ballard)
7. Twistin' In The Old Town Tonight (Mack David)
8. Movin' And Groovin' (Sam Cooke / Lou Rawls)
9. Camptown Twist (Sam Cooke)
10. Somebody Have Mercy (Sam Cooke)
11. Soothe Me (Sam Cooke)
12. That's It - I Quit - I'm Moving On (Roy Alfred / Del Serino)



◎ "Mr. Soul" [RCA Victor LSP-2673] -1963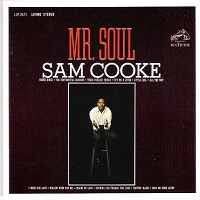 1. I Wish You Love (Charles Trenet / Lee Wilson /Albert Beach)
2. Willow Weep For Me (Ann Ronell)
3. Chains Of Love (Nugeter)
4. Smoke Rings (Ned Washington / Gene Gifford)
5. All The Way (Sammy Cahn / James Van Heusen)
6. Send Me Some Lovin' (Leo Price / John S.Marascalco)
7. Cry Me A River (Arthur Hamilton)
8. Driftin' Blues (Johnny Moore / Charles Brown / Eddie Williams)
9. For Sentimental Reasons (Deek Watson / William Best)
10. Nothing Can Change This Love (Sam Cooke)
11. Little Girl (Madeline Hyde / Francis Henry)
12. These Foolish Things (Eric Marschwitz / Jack Strachey / Henry Link)



◎ "Night Beat" [RCA Victor LSP-2709] -1963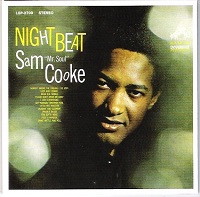 1. Nobody Knows The Trouble I've Seen (traditional, arranged by Sam Cooke)
2. Lost And Lookin' (James W.Alexander / Lowell Jordan)
3. Mean Old World (Sam Cooke)
4. Please Don't Drive Me Away (Charles Brown / Jesse Ervin)
5. I Lost Everything (Ella Tate)
6. Get Yourself Another Fool (Tucker / Haywood)
7. Little Red Rooster (Willie Dixon)
8. Laughin' And Clownin' (Sam Cooke)
9. Trouble Blues (Charles Brown)
10. You Gotta Move (Sam Cooke)
11. Fool's Paradise (Johnny Fuller / Robert Geddins / David Avid)
12. Shake, Rattle And Roll (Charles Calhoun)



◎ "One Night Stand! Live at the Harlem Square Club, 1963"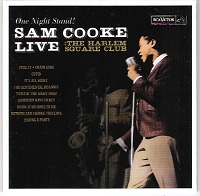 1. Soul Twist / Introduction (Curtis Ousley)
2. Feel It (Don't Fight It) (Sam Cooke)
3. Chain Gang (Sam Cooke)
4. Cupid (Sam Cooke)
5. Medley: It's All Right / For Sentimental Reasons (Sam Cooke / William Best / Deke Watson)
6. Twistin' The Night Away (Sam Cooke)
7. Somebody Have Mercy (Sam Cooke)
8. Bring It On Home To Me (Sam Cooke)
9. Nothing Can Change This Love (Sam Cooke)
10. Having A Party (Sam Cooke)


2011年6月7日 21時30分 |
記事へ
|
コメント(10)
|
トラックバック(0)
|
|
Past MUSIC in 2011
/
CDs of Sam Cooke
/
BEST 10 CDs in 2011
|
トラックバックURL:http://blog.zaq.ne.jp/shinozrsb/trackback/1014/
※ブログ管理者が承認するまで表示されません
2011年04月30日(土)
Lucinda Williams "BLESSED [Deluxe Edition] (2 CDs)" [Lost Highway B0015240-02]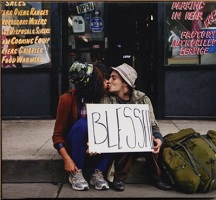 DISC I:
1. Buttercup 2. I Don't Know How You're Livin' 3. Copenhagen 4. Born To Be Loved 5. Seeing Black 6. Soldier's Song 7. Blessed 8. Sweet Love 9. Ugly Truth 10. Convince Me 11. Awakening 12. Kiss Like Your Kiss

Disc II: [The Kitchen Tapes] 1.〜 12. (same title)

Lucinda Williams の新作。
このブログのテーマである Rock'n'Soul & Blues + Country をそのまま具現したような内容のアルバム。収録曲一つ一つの印象はさまざまだが,アルバム全体の印象は,前々作 "West" ほどソフトではなく,前作 "Little Honey" ほどハードではない・・・つまり,要するに,ちょうどよい・・・(^^♪
タイトル曲の 'Blessed' を聴いていて連想したのは,Rolling Stones 'You Can't Always Get What You Want',それも,ロニー加入後の "Love You Live" バージョン。
● "West (+2)" [Lost Highway UCCU-1146] -2007
● "Little Honey" [Lost Highway B0011434-02] -2008

昨年の R'n'S & B + C 大賞 は,Holmes Brothers "Feed My Soul" だったけれども,六十過ぎの爺さんたちの歌や演奏より,もう若くないとはいえ女性の歌のほうが色気があっていい・・・(^_^;)

同じタイトルで,CD1枚(Disc I のみ) だけのもの,2枚組,2枚組+LP という3種類のアルバムがリリースされていて,手元にあるのは CD 2枚組のバージョン。2枚目には1枚目と同じ曲順で Lucinda Williams のギターのみによる弾き語りが収録されている。美しい女性はやっぱりスッピンもきれいで,味わい深い。
彼女のサイトによると,ジャケットの写真にもいろいろなバージョンがあるらしい。
http://www.lucindawilliams.com/index.php
Youtube には,そのジャケ写のメイキング映像が数種類アップされている。残念ながら,ぼくの貧弱なリスニング力では十分理解できたとは思えないが,それでも 'BLESSED' という言葉の持つ深い意味が感じ取れるような気はした。

1曲目のタイトルになっている 'Buttercup' は,植物のキンポウゲのことだが,ほかにもいろいろな意味があり,かなりエロチックなものもある。ミステリーで毒殺によく用いられるトリカブトもキンポウゲ科なのだそうだ。


2011年4月30日 09時17分 |
記事へ
|
コメント(0)
|
トラックバック(0)
|
|
Past MUSIC in 2011
/
BEST 10 CDs in 2011
|
トラックバックURL:http://blog.zaq.ne.jp/shinozrsb/trackback/1005/
※ブログ管理者が承認するまで表示されません
2011年02月15日(火)
Various Artists "Sweet Inspiration: The Songs of Dan Penn & Spooner Oldham" [ace CDCHD 1284]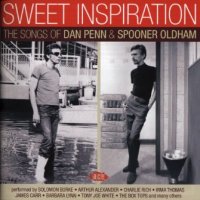 《2月15日 追記》
今日,届いた (^_^)v
例によって,かなり長文のライナーノートが付いている。1.5倍くらいに拡大しないとじっくり読めないのだが・・・(^_^;)
最初のページには,次のような部分が・・・
... the Muscle Shoals story will be more fully covered in our forthcoming FAME box set, ...
問題は,この "FAME box set" がいったいいつリリースされるのか? だけれども,'forthcoming' を辞書で引くと 「来つつある;まさに来よう[現れよう]としている;来たるべき,今度の」 とある。いくらなんでも「来年」のことを 'forthcoming' とは言わないだろう・・・と,期待したい・・・m(_ _)m

Ace Records の,この CD のページに掲載されている解説(Tony Rounce) の末尾には,"A companion volume – which will also include songs co-written by Dan and/or Spooner with collaborators such as Donnie Fritts, Rick Hall, Marlin Greene and Chips Moman – will hopefully see the light of day next year." と書かれている。こちらのほうもできるだけ早くお願いしたい・・・m(_ _)m
http://www.acerecords.co.uk/content.php?page_id=59&release=8631

《12月13日 記》
今年の新譜で愛聴しているにもかかわらず未紹介の CD がいくつか残っているのに,来年の話をすると鬼に笑われそうだが・・・(^_^;)

おなじみの英 ace から,来年早々にソングライター・シリーズの1枚として,Dan Penn と Spooner Oldham が書いた名曲集がリリースされる。
収録曲のリストを見ると,初 CD 化の音源は少なそうだけれども,予約注文済み。
ライナーノートが気になるし,この CD が売れることによって,FAME 録音のリイシューが加速し,さらには「幻のデモ録音」が公式に発表されることを期待したい・・・m(_ _)m

1. Out Of Left Field - Percy Sledge
 ● Percy Sledge "It Tears Me Up: The Best Of Percy Sledge" [MMG AMCY-407] -1992
2. I'm Yout Puppet - Dionne Warwick
 ● Dionne Warwick "Soulful" [Warner/RHINO RHM2 7838] -2004
3. Sweet Inspiration - The Sweet Inspirations
 ● The Sweet Inspirations "The Best of the Sweet Inspirations" [Ichiban/soul classics SCL-2506-2] -1994
4. A Woman Left Lonely - Charlie Rich
 ● Charlie Rich "Feel Like Going Home: The Essential Charlie Rich (2 CDs)" [EPIC E2K 64762] -1997
5. I Worship The Ground You Walk On - Etta James
 ◎ Etta James "Tell Mama: The Complete Muscle Shoals Sessions" [Chess/MCA 088 112 518-2] -2001
6. I'm Living Good (Version 2) - The Ovations
 ● V.A. "The Complete Goldwax Singles Volume 1 [1962-1966] (2 CDs)" [ace CDCH2 1226] -2009
 ● V.A. "The Complete Goldwax Singles Volume 3 [1967-1970] (2 CDs)" [ace CDCH2 1248] -2010
 さて,どちらが Version 2 ?
7. Take Me (Just As I Am) - Solomon Burke
 ● Solomon Burke "King Solomon (+4)" [Sequel RSA CD 862] -1997
8. Cry Like A Baby - Arthur Alexander
 ◎ Arthur Alexander "The Monument Years" [ace CDCHD 805] -2001
9. It Tears Me Up - Jeanne Newman
 "The Complete Goldwax Singles Volume 3" で,'He Called Me Baby' を歌っていたシンガー。 初 CD 化?
10. Slippin' Around - Art Freeman
 ◎ V.A. "Gettin' to me" [KENT CDKEND 181] -2000
 どうせなら,『楽ソウル』(p.44) で紹介されている 'Everybody's Got To Cry Sometime'(Fame 1012) にしてほしかったが・・・(^_^;)
11. I Met Her In Church - Tony Borders
 ● Tony Borders "Cheaters Never Win: The Quinvy Sessions from Muscle Shoals" [Soulscape SSCD 7002] -2007
12. Are You Never Coming Home - Sandy Posey
 ● Sandy Posey "A Single Girl: The Very Best of the MGM Recordings" [RPM 245] -2002
13. Let It Happen (Alternate Take) - James Carr
 ◎ James Carr "A Man Needs A Woman (+13 Bonus Tracks)" [KENT CDKEND 215] -2003
 Alternate Take というのが気になるが・・・。
14. Everything I Am - The Box Tops
 ● The Box Tops "The Letter/Neon Rainbow" [SUNDAZED SC 6158] -2000
15. Feed The Flame - Ted Taylor
 ● V.A. "Sanctified Soul" [KENT CDKEND 180] -2000
16. Watching The Trains Go By - Tony Joe White
 ● Tony Joe White "...Continued (+2)" [Warner Brs. 9362-46365-2] -1996
 Tony Joe White の Monument における2nd シングル。↑ の CD にボーナス・トラックとして収録済み。
17. In The Same Old Way - Arthur Conley
 ● Arthur Conley "Sweet Soul Music: The Best Of Arthur Conley" [Ichiban/soul classics SCL 2105-2] -1995
18. Denver - Ronnie Milsap
 ● Ronnie Milsap "Kentucky Woman: 22 Country-Soul Recordings" [Country Stars CTS 55485] -2003
19. Dreamer - Patti LaBelle & The Bluebelles
 ● Patti Labelle And The Bluebells "Over The Rainbow: The Atlantic Years" [Ichiban/Soul Classics SCL 2501-2] -1994

《1月3日 追記》
いつの間にか,最初の発表から収録曲が追加されている・・・!?
それでもまだ十分,Vol.2 を作れるくらい,Penn/Oldham の名曲は残っていると思うが・・・m(_ _)m

Irma Thomas や Barbara Lynn の CD にプレミアがついているのは,おかしい。
こういうアルバムを廃盤状態にしておくような業界なのだから,CD が売れないのも当たり前か・・・(^_^;)

20. Good Things Don't Come Easy - Irma Thomas
 ◎ Irma Thomas "Something Good: The Muscle Shoals Sessions" [CHESS/MCA CHD-93004] -1990
21. I Need Someone - The Wallace Brothers
 ● V.A. "Deep Soul Vol.1: From Chicago to Shreveport" [Fuel 2000 302 061 145 2] -2001
 日本編集盤で,『ザ・ソウル・クラン』という紛らわしいタイトルの CD にも収録されていた曲。
 ◎ V.A. "The Soul Clan: Patterson Twins, The Wallace Brothers, etc." [P-Vine PCD-2295] -1991
22. He Ain't Gonna Do Right - Barbara Lynn
 ● Barbara Lynn "The Best of Barbara Lynn: The Atlantic Years" [Ichiban/Soul Classics SCL 2509-2] -1995
23. Wish You Didn't Have To Go - Tommy Roe
 1965年リリースのシングル[ABC-Paramount 10696]。初 CD 化?
24. Let's Do It Over - Joe Simon
 ◎ Joe Simon "Mr. Shout" [ace CDCHD 663] -1997
2011年2月15日 20時00分 |
記事へ
|
コメント(4)
|
トラックバック(0)
|
|
CHEAP TALK
/
Past MUSIC in 2011
/
BEST 10 CDs in 2011
|
トラックバックURL:http://blog.zaq.ne.jp/shinozrsb/trackback/966/
※ブログ管理者が承認するまで表示されません